Waterloo Station Cabs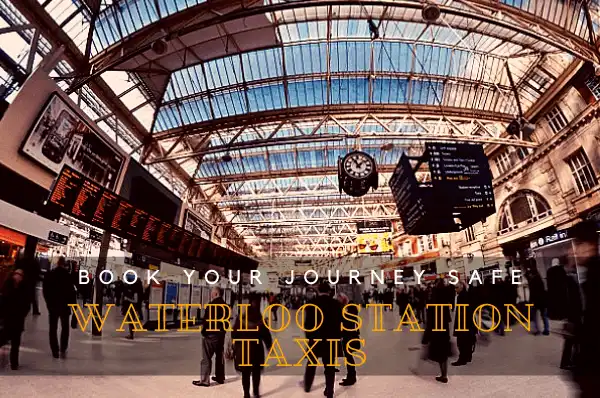 Imagine yourself just an hour before searching for a taxi company that provides taxi near you and caters station transfers to and from Waterloo, time is ticking over and each second makes you more anxious. You are afraid you might lose the train, you blame yourself for not booking a taxi in advance, but then you defend yourself that you couldn't find any reliable taxi service.
Get up, the nightmare is over and it won't happen again - only if you use our professional taxi services! For your station transfers from Waterloo or to Waterloo, we are here to provide top notch quality taxis in Waterloo and minicabs in Waterloo at cheap fare. No, you don't need to visit our office to make a booking, just on one click and you'll get Waterloo cabs that meet your preferences.
I know, you are thinking about fares, don't worry about them. The whole procedure is transparent and you get to know what you will be charged. In short, whether you need the lowest fare cabs or luxurious ones to transfer you to a station or airport, we have both of them. Our taxis in Waterloo are available 24/7, so no matter at what time of the day or night you want to travel, without giving a second thought you can use our app to book a cab in Waterloo online.
Meet & Greet Services To And From Waterloo
Now comes the kicker, if you think we are restricted to a particular region then you are wrong. Our pick and drop with meet and greet service is extended to multiple airports and stations. The stations we are covering include London Bridge, Euston, Charing Cross, Kings Cross, Victoria, and Paddington.
Regardless of the fact where you are travelling and from where you travel, you'll find our services the cheapest fare services - if you have any doubts, you can compare yourself and then decide which service is more budget-friendly.
Instant Booking & Get Best Quote Online
As said earlier, transparency in the entire system keeps our client happy and satisfied. No hidden charges, no lies and most importantly, on-time arrival of a cab is what every client wants. While booking a cab or minicab in Waterloo online, you'll get the estimated fare, or if you still have any ambiguity, you can call us at the given number and get your every query answered. Moreover, if you have any suggestion to improve our services or a review to give, you can call at the same number and share with us your valuable feedback so that we continue to improve in every area of our services.
Versatile Taxi Provider
Not just we provide taxis in Waterloo for station transfer in Waterloo or to any airport, but you can also hire cabs and minicabs for day hire at a very feasible rate. Our aim is to become a brand that is within the reach of every type of traveller. At the same time we have corporate accounts services for companies to escort them to corporate events or for other purposes.
So, if you are looking to book a taxi for any of the above mentioned airports or stations, you can book an instant booking online and get your airport or station transfer done in a hassle-free manner.